Towers of Madonna Bianca
Towers of Madonna Bianca
Residential energy requalification: the off-site revolution with ADDMIRA
Architectural Design: Campomarzio Studio, Bombasaro Studio
Executive design: Armalam Studio
Artistic Direction: Campomarzio Studio
Construction company: Collini Lavori SpA & Mak Costruzioni
Isopan product: ADDMIRA with ADDCross and ADDVision finishes
In Trento the Towers of Madonna Bianca stand out, the complex designed in the 70s by the architect Marcello Armani and engineer Luciano Perini. 14 apartment buildings on which, starting from November 2022, a large redevelopment project has been launched, representing an important step in the world of residential building envelopes, which is committed to an energy transition path.
The intervention for the renovation of the facade of the Towers was carried out using the new ADDMIRA facade technology provided by Isopan, the first "dry" coat designed specifically for the redevelopment of buildings. With a double external finish, in Kerlite porcelain stoneware (ADDCross) and a special pre-painted "Natural Concrete" (ADDVision), the system requires off-site pre-assembly in the Isopan factories.
The Isopan panel used for the ADDCross solution is made up of the PIR insulating core which ensures high performance in terms of thermal insulation. Thanks to the use of insulating materials and metal coatings, it guarantees unaltered performance over time.
The two finishes, selected from the wide range available, made it possible to guarantee the highest possible similarity with the original covering, a requirement due to the significant landscape impact of the Towers.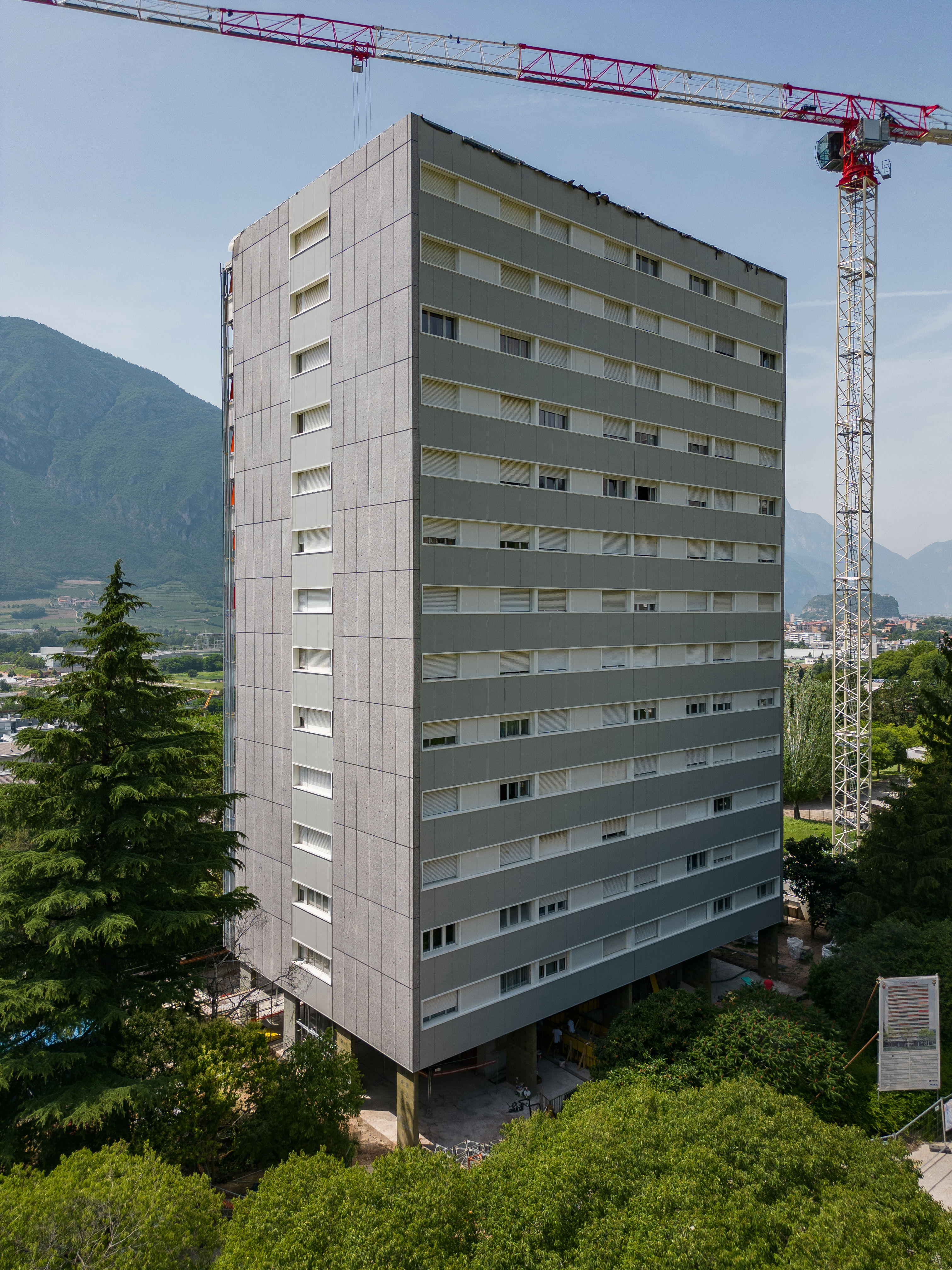 ADDMIRA System, the winning choice in every way
First, for the quality and speed of production. ADDMIRA, in fact, is the fastest energy requalification system currently on the market, which allows you to install up to 60 sqm of panels per day with three people. Thanks to off-site technology, on-site intervention operations are reduced to a minimum, pre-assembling all the elements in guaranteed processing chains with consequent precision of application and certain installation times.
This efficiency of construction times is not only attributable to the optimization of the entire supply chain - from design to supply to installation - but also to the benefit of residents.
Furthermore, ADDMIRA stands out for its easy application, since installation can take place in any weather condition and on any type of lifting structure - in the specific case of the Towers a mobile scaffolding was used - thus significantly reducing discomfort for those who live in the building.
From a performance point of view, the reduced thickness and weight of the panel, thanks to the PIR insulation made with Isopan's Leaf technology, not only made it possible to achieve the objectives of thermal transmittance up to 20% lower than a standard product, but also allowed to give lightness to the building envelope without further burdening the load-bearing structure. The containment of the thicknesses of the facade finally avoided the excessive retreat of the existing fixtures and the consequent penalization of their lighting ratio, maintaining the living comfort of the apartment buildings.
ADDMIRA, with the ADDCross and ADDVision panel finishes, representing the most advanced solution for the energy requalification of buildings, can offer maximum architectural flexibility combined with the best thermo-acoustic performance in the sector and maximum installation speed.